The influence of Italian cuisine worldwide is apparent. Apart from its rich flavours and fresh ingredients, the main reason people savour Italian food is because of how it brings loved ones together to enjoy a
The influence of Italian cuisine worldwide is apparent. Apart from its rich flavours and fresh ingredients, the main reason people savour Italian food is because of how it brings loved ones together to enjoy a delicious meal, especially when it comes to pasta! If you're passionate about this cuisine, here are some Italian pasta and sauces that shouldn't be missing from your plate!

1) Spaghetti
Spaghetti is a long and thin type of pasta, widely consumed around the world. The classic Italian recipe was handmade, using only water and flour. Nowadays, it is also common to find eggs in their composition. Once cooked, they are very soft and transparent. The great characteristic of spaghetti is its versatility. It can be combined with various types of pasta, meat and vegetable sauces. For this reason, it is one of the most appreciated among pasta lovers!

2) Tortellini
Tortellini is a ring-shaped pasta consisting of a very thin paste of wheat flour and egg yolks. It is usually filled with meat. The name refers to the diminutive of the word tortello, which means cake. Fresh dough, fresh ingredients and freshly cooked, we guarantee you'll love it!

3) Ravioli
Ravioli is a type of pasta made of thin dough. When it first appeared, its purpose was to be a denser paste for broths and soups. Typically served in broth or with a sauce, it is a traditional Italian food. The first filled ravioli was made of ricotta and herbs. Over time, other contents were composed, such as basil, tomato, eggs, meat etc. Like spaghetti, ravioli can be accompanied by several sauces. The most common are sugo and white.

4) Lasagna
This is perhaps the most appreciated Italian dish! It is an Italian recipe prepared from stacked layers of thin, flat dough alternated with fillings. The dough is made of wheat flour, water and sometimes eggs, and the filling varies according to the taste of those who make it. The most common fillings include ragù (tomato sauce and ground meat), cheese, vegetables with spices and seasonings such as oregano, basil and garlic. In Italy, it is believed that the more popular a restaurant is, the better the lasagna is.

5) Gnocchi
Originally made of wheat flour, water and salt, gnocchi is a thick pasta. In this pasta's history, there's a legend about a homeless man who once entered a restaurant and ordered the only food that was left. He was served gnocchi, and years later, he returned to the restaurant, saying that his life had changed completely after having gnocchi. This is why the gnocchi is also known as the pasta of fortune!
Sauce: What You Can't Miss in Your Pasta!
The sauce is an integral part of a tasty pasta! It can be served separately and can even be made at home. Out of the different and delicious pasta sauces, it is essential to see which one suits the pasta you're going for. Here are some of the sauces that you can prepare:

1) Carbonara
The name of this sauce comes from carbonara, the Italian word for coal. The recipe contains parmesan cheese, eggs, black pepper and bacon. Unlike bolognese sauce, it does not have a thick and liquid consistency. The carbonara sticks as a topping to the spaghetti.

2) Sugo Sauce
This sauce is more acidic, basically made from tomato, salt and olive oil. It goes well with gnocchi and spaghetti and is even tastier when served with some basil leaves on top! Since it is more acidic, the tip is to complement it with Chianti red wines, as they have a fruity and floral taste.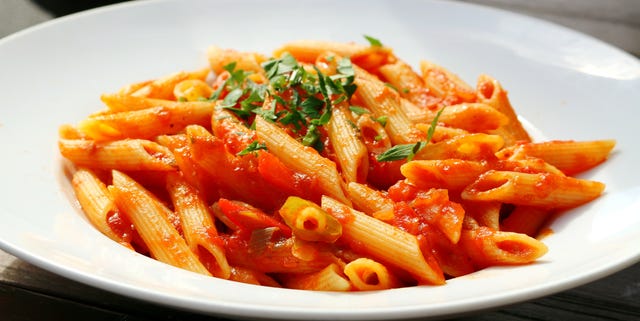 3) Bolognese Sauce
Made from tomato and ground meat, the Bolognese sauce is one of the most versatile. It can be made at home and tastes great with pasta and even white rice. It is also the most commonly used sauce for pasta. Pair it with Cabernet Sauvignon red wine and some grated or sliced parmesan cheese on top to serve!

4) White Sauce
The white sauce is made from milk and cheese and can also easily be made at home, just like the bolognese sauce. It is a stronger and creamier sauce due to the fat percentage, which also goes very well with pasta, gnocchi, and tortellini. Complement this pasta sauce with Chardonnay wine for a great meal!

5) Pesto
Among so many Italian sauces, it is impossible not to mention pesto – or, as it is also known, the green sauce. This sauce is made from basil, garlic, olive oil, salt and pinoli (a seed). When serving pasta with pesto sauce, choose white wines like Sauvignon Blanc.

Which among these different kinds of pasta is your favourite? Let us know in the comments below!