Moalboal is located in the southern part of Cebu Island. It is a cozy backpacker's town that can be reached by bus or cab from Cebu City in about 4 hours. Moalboal is a popular
Moalboal is located in the southern part of Cebu Island. It is a cozy backpacker's town that can be reached by bus or cab from Cebu City in about 4 hours. Moalboal is a popular tourist destination, especially among divers, but even non-divers will surely not be bored. It is the perfect place for those looking for adventure while relaxing on the pearly white sand beaches.
Here are some of the attractions of Moalboal, Philippines.
1) Sardine and Turtle Snorkeling
A place where tourists flock to is Panagasama Beach. White sand beaches do not exist there, so do not get your hopes up. You can enter the ocean from a rock jetty, but there are two reasons to snorkel here: For the world-famous sardine run and to spot turtles.
Sardine Run Moalboal
The best place to enter the water for the sardine run is the Chile Bar (what is left of it, since the bar no longer exists); Google Maps also shows where you need to swim with sea turtles and where the Sardine Run takes place each morning.
Things to know: watch out for jellyfish. Depending on the weather, there may be a lot of jellyfish swimming around, and they can sting you. Wearing a long shirt is not a wasted luxury. If you ever get stung? Ask your diving school about vinegar and dab it on the sting site.
2) Canyoning
Canyoning is not to be missed in Moalboal. You can choose to hike to the starting point or zip line to the entrance in one minute. The zipline makes the day a little more expensive, but it is a great experience.
Canyoning takes about 3 hours of climbing, walking, jumping, and swimming through the jungle to reach Kawasan Falls. Starting with small jumps into the water, you can jump up to 10 meters high. Are you afraid of heights? Then there is an alternative route for high jumps. Anyone with a love of adventure can participate!
While it is possible to complete the route individually, it is much better to go with an experienced guide. These are the ones who will tell you exactly where and how to jump. Numerous tours are offered in Moalboal, including transportation, lunch, and equipment.
3) Swimming at Kawasan Falls
Planning to go canyoning? Then you can combine the two activities at Kawasan Falls at the end of the day. It is a beautiful end to an active afternoon in the jungle, and you can swim in the blue water under the falls.
4) Visit Osmena Peak or Casino Peak
The surrounding environment of Moalboal will not bore you. Rent a scooter and visit Casino Peak or Osmena Peak. Osmena Peak is the highest peak in Cebu, and its view resembles that of Chocolate Hill in Bohol. Depending on the location, it takes 1.5 hours to drive there from Panagsama Beach.
5) Relax at the White Beach
White Beach is about 30 minutes away by scooter or tricycle. Unlike Panagsama Beach, it is possible to relax on the beach here. It is also a popular place for locals to spend their holidays and weekends, so crowds and noise can be a concern. But after your adventure in Moalboal, you can spend a day relaxing here.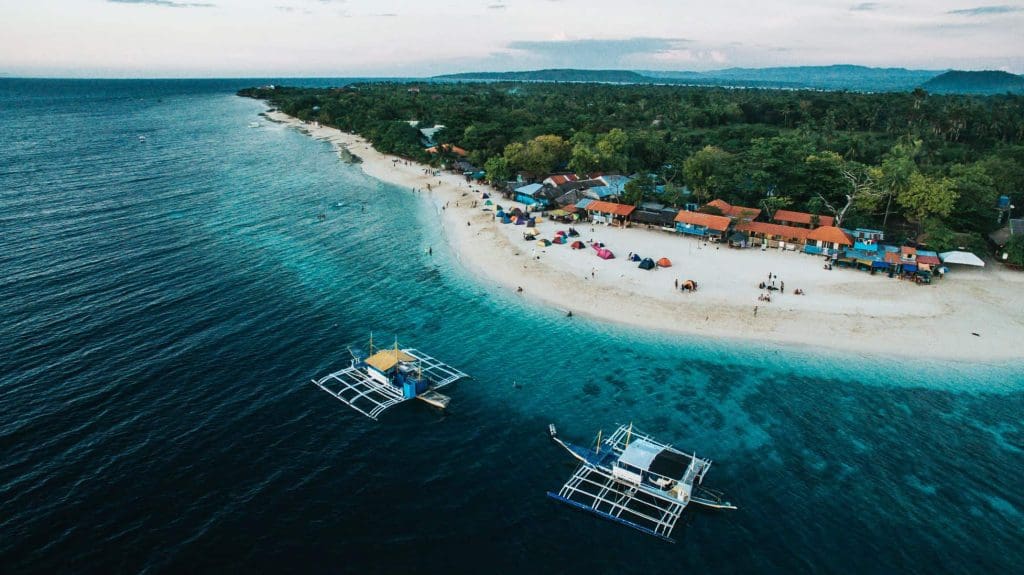 6) A Trendy Place With Great Food
Since Moalboal (especially Panagasama Beach) is a touristy coastal town, there are plenty of Western food options. Stop by Shaka for delicious smoothies, Smooth Cafe for lunch, and My Greek Taverna and Parrot Resort for dinner.
7) Oslob
You can go to Oslob from Moalboal. It is the most famous place to swim with whale sharks, but think twice if you really want to swim. The whale sharks are fed here daily, and the ecosystem has been destroyed.
Have you ever been to any of these places? Share your experience with us in the comments below!