Amed, Bali is a cozy village on the island's east coast. It is still less popular than other places in Bali such as Canggu and Ubud. This fishing village is ideal for those who want
Amed, Bali is a cozy village on the island's east coast. It is still less popular than other places in Bali such as Canggu and Ubud. This fishing village is ideal for those who want to discover the most authentic Bali, immerse themselves in the underwater world, and enjoy the beautiful scenery. There are many exciting things to see and do, especially in the Amed area. Here are some of our recommendations for Amed!
1) Snorkeling at Many Diving Spots
Amed is one of Bali's best places for snorkeling (and skin diving). It is known for its beautiful corals and shipwrecks. The Japanese Shipwreck Point is especially worth snorkeling. This point is also easily found as it is marked on Google Maps. Other beautiful snorkeling spots include. Serang Beach, Lipa Beach, and Pantai Gem Look. Tip: At the last spot, stay to the right to see the coral and beautiful fish.
2) Lahangan Suite Viewpoint
It is one of the most famous viewpoints in Bali. It is about 45 minutes drive from Amed. There are several platforms where you can take pictures with Mount Agung in the background. Combining this with a visit to the Gates of Heaven and sunrise on Mt. Agung is also possible.
3) Watch the Sunrise With a View of Mount Agung
Wake up early and take a scooter to watch the sunrise from Mount Agung. Many tourists have not yet discovered this location, so you will likely be able to enjoy the beautiful view alone or with a few other tourists.
4) Take a Photo at the Gates of Heaven
Pura Luhur Lempuyang also called the Temple of the Gates of Heaven is very crowded during the day. If you want to take an iconic photo of this temple, try to visit early in the morning. You will have to draw a number and wait for your turn. If you come in the afternoon, you may have to wait for hours before it is your turn. Don't forget to cover your shoulders and knees at this temple!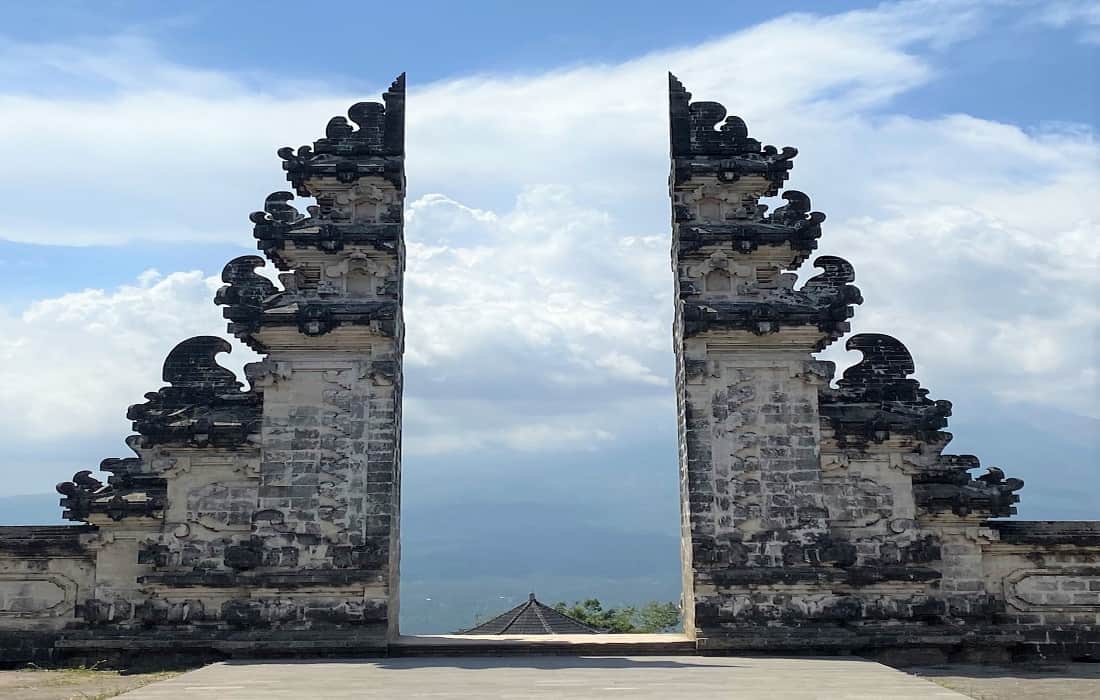 5) Relax on the Volcanic Beach
Bali is already well-known for its volcanic beaches, but Amed Beach is a volcanic beach like no other. Perhaps because of its proximity to Mount Agung, the sand here is almost entirely black. It is a bit of a strange sight at first, and for a moment, you will feel like you are in a tropical version of Iceland.
The black sand at Amed Beach gets very hot during daylight hours (it is black, after all), and at the peak of the heat, you are guaranteed to be jumping up and down. Seriously, bring sandals.
6) Visit Tirta Ganga Water Palace
This former palace is a special place for a day trip. At Tirta Ganga ("Water of the Ganges" in English), you can see fountains, statues, and ancient sculptures. It is a wonderful place to experience old Bali and take beautiful pictures with the pools and passing stones. And the best part? Tirta Ganga is only a 30-minute drive from Amed, so half a day is plenty of time to explore!
7) Watch the Sunset at Sunset Point
At the end of the day, Pantai Gemeluk's Sunset Point is the perfect place to end the day. The sun slowly sets behind Mount Agung. The Blue Earth Village has a serene atmosphere and offers good food and drinks.
Where to Stay in Bali Amed?
Many tourists choose to stay at Pantai Gemluk Bay. There is a friendly atmosphere here and a wide choice of restaurants and hotels. Bamboo Bali Hill is also an excellent place to spend the night. You will sleep in a comfortable cottage with a pool overlooking the ocean. The beach is across the road, and the restaurants are right in front of you. Good value for money!
Have you ever been to any of these places? Share your travel experience with us in the comments below!