Introduction The Agafay Desert is a unique and stunning destination just an hour's drive from Marrakech. This rocky desert landscape with hills and valleys offers visitors an opportunity to explore the natural beauty and serenity
Introduction
The Agafay Desert is a unique and stunning destination just an hour's drive from Marrakech. This rocky desert landscape with hills and valleys offers visitors an opportunity to explore the natural beauty and serenity of the Sahara Desert without having to travel far from the city.
Getting to the Agafay Desert
The Agafay Desert is located in the Atlas Mountains and can be easily reached by car or taxi from Marrakech. You can also arrange a tour with a local guide, who can provide transportation and information about the area.
Accommodations
There are several accommodation options in the Agafay Desert, ranging from luxury tented camps to simple Bedouin-style tents. Many of the accommodations offer stunning views of the desert and the surrounding mountains and provide a comfortable and authentic desert experience.
What to Do
The Agafay Desert offers visitors a wide range of activities, including camel treks, hiking, and stargazing. Here are a few must-do experiences when visiting the Agafay Desert:
Camel Trekking
One of the most popular activities in the Agafay Desert is camel trekking. A camel trek will take you through the beautiful desert landscape and give you a unique perspective. You can choose from a half-day trek or a full-day trek, and many tours include stops at local villages, where you can learn about the culture and traditions of the Berber people.
Hiking
The Agafay Desert is also a great place for hiking, with several trails that offer stunning views of the surrounding mountains and valleys. Whether you're an experienced hiker or just looking for a leisurely walk, there are trails for all experience levels.
Stargazing
The Agafay Desert is known for its clear night skies, making it an ideal destination for stargazing. You can take a guided night sky tour, or simply lie back and admire the stars on your own.
Camping
Another great way to experience the Agafay Desert is by camping. There are several campgrounds in the area where you can set up your tent or rent a pre-pitched one. Camping in the desert is an unforgettable experience and a great way to immerse yourself in the stunning landscape. Whether camping under the stars or lounging by a campfire, the desert provides a peaceful and serene environment that is perfect for relaxing and rejuvenating.
Cultural Experiences
The Agafay Desert is also a great place to learn about the culture and traditions of the Berber people. You can visit local villages, meet the friendly and welcoming locals, learn about their way of life, and see their traditional homes. You can also participate in traditional activities, such as making bread or weaving rugs and learn about the local history and culture. These cultural experiences will give you a deeper appreciation for the area and its people and give you an unforgettable experience that you'll treasure for years to come.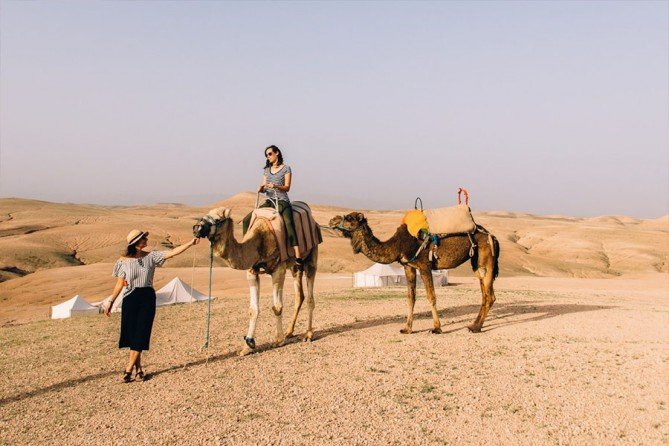 Other Activities
In addition to these popular activities, there are also several other things to do in the Agafay Desert, including:
Quad biking: Explore the desert on a quad bike and see the landscape from a new perspective.
Rock climbing: The Agafay Desert is great for rock climbing, with several challenging routes to try.
Cooking classes: Learn about traditional Berber cuisine and try your hand at cooking some local dishes.
Spa treatments: Relax and rejuvenate with a spa treatment in the desert, using natural ingredients and traditional techniques.
Conclusion
The Agafay Desert is a truly stunning destination that offers visitors a unique and unforgettable experience. Whether you're an adventure seeker or just looking for a peaceful escape from the city, the Agafay Desert has something for everyone. So pack your bags and head to Morocco for an unforgettable journey to the heart of the Sahara Desert.