If you're looking for an explosive flavor to tantalize your taste buds, look no further than Vietnamese vegetarian cuisine. It is considered by many affluent vegetarian chefs to be the most sought-after food on menus
If you're looking for an explosive flavor to tantalize your taste buds, look no further than Vietnamese vegetarian cuisine. It is considered by many affluent vegetarian chefs to be the most sought-after food on menus that have a depth of the exotic. Although the cuisine is more known for its meat dishes, vegetarians will also be happy to know that most of its signature dishes have vegetarian variants and are just as delicious, if not better, than their meat counterparts. The Buddhist culture of non-violence has conditioned the vegetarian way of Vietnamese cooking. It is said that during the holy days of the lunar months, vegetarianism is widely practiced, and everyday recipes are adapted to make it a vegetarian affair, much to the delight of many.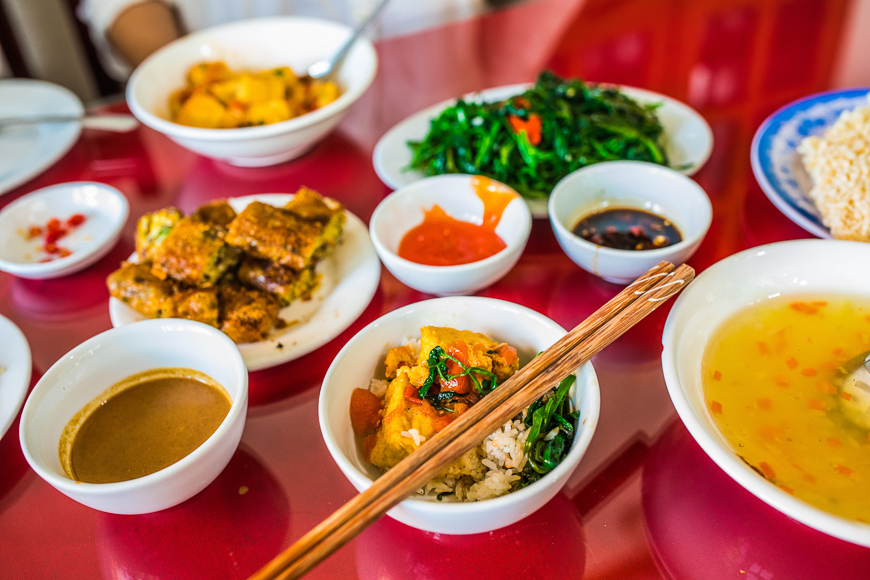 Rice
Rice is the staple food at almost every meal. To replace meat, soy and tofu are used in Vietnamese cuisine. Spices are used in most meals to give the meal an extra touch. Most are mint, cilantro, lemongrass, and basil. Traditional Vietnamese cuisine is known for the freshness of the ingredients used in cooking. Hence fruits and vegetables are common in every meal due to the nature of the agricultural culture. There are three main varieties of cuisine in Vietnam which are Northern, Central, and Southern. Strict vegetarians should watch out for fish sauce. It can find its way into vegetarian food in some places, as it is trendy, and some cultures use it within the vegetarian definition.
A typical Vietnamese vegetarian variation meal would include bowls of rice, stir-fried vegetables or steamed vegetables, Canh (a clear broth of vegetables), other soups, and soy sauce mixed with garlic or chili. Vietnamese cuisine places great importance on the number five, as five spices are substantially present in the main dishes and five colors, and the food is meant to appeal to all five senses: smell, color, taste, texture, and sound. Traditional Vietnamese cuisine also includes five elements. These are powder, liquid, mineral elements, protein, and fat. The distinction of these elements
National foods
The famous Vietnamese dishes are the so-called "national dish," the Pho (aniseed and chili-spiced noodle soup for vegetarians). Add to that other words like Goi Cuon (an egg roll) or Banh mi (a sandwich) or some crispy shallots mixed with fresh herbs, called Banh uot, and you have the ingredients of a good meal.
Noodle dishes such as Banh Hoi (a thin noodle with spices and onions), Bun Cha Gio (a combination of vermicelli topped with deep-fried spring rolls), and a vegetarian version of Mi Quang (a noodle dish with lots of herbs, vegetables, spices, and roasted rice) are some of the very best dishes that express the creativity in Vietnamese cuisine.
Noodle soups are a national favorite and come in a wide variety. The common feature is the rich broth in them, which can change to the vegetarian varieties, such as creamy potato soup and tamarind soup (Canh Chuan am bo).
Standard rice and sticky rice are more often than not added with steamed vegetables and bulk the Vietnamese diet. In the south, curries are popular, to which bread, rice, and noodles are added for bulk. Pickled vegetable dishes with onion balls (Duah Hanh) or carrots (Dua mon) and others are standard. Sauces are a fad, and the most common is fish sauce. Other flavorings can be added to make things spicy, like Sriracha, a scorching chili sauce, or to add some spice. You can use Tuong, a famous soy sauce.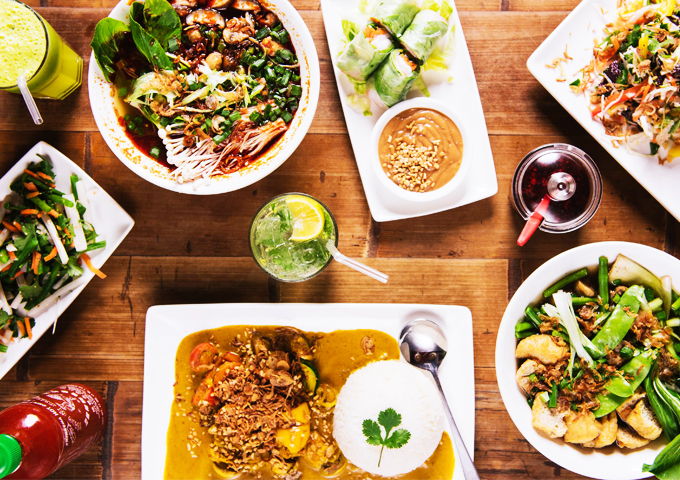 Raw vegetables
Vietnamese cuisine uses raw vegetables as seasonings and is called rau song (raw vegetables) or rau ghem (cut vegetables). Rau song is essential in dishes such as Banh xeo. Vegetables are usually herbs and wild edible vegetables that often have a more robust flavor than domesticated vegetables. Leaves are generously used, and most of these leaves and vegetables also have medicinal value. Rau song includes raw bean sprouts, lettuce (xa lach), green banana, banana flower, and guava leaves.
Finishing
All these delicacies can finish with mouth-watering desserts such as Che (a sweet drink made from beans and sticky rice, which has many variations), fried banana, sinht (a fruit smoothie made from local fresh fruits, crushed ice, and condensed milk). Tea, coffee, and beer are common beverages but are often served only after the meal.
All in all, Vietnamese vegetarian food is not only for strict vegetarians, but even the hard-core non-vegetarians will miss out on a lot if they don't try the Vietnamese vegetarian delicacies!