Seychelles is located in the Indian Ocean and consists of 115 islands. It is close to the East African coast and Madagascar. Although there is still some instability regarding their politics, it is still a
Seychelles is located in the Indian Ocean and consists of 115 islands. It is close to the East African coast and Madagascar. Although there is still some instability regarding their politics, it is still a favorite tourist destination, and here are ten things you can do while in Seychelles.
1.) Go shopping
The most popular place to go shopping is in Victoria, the capital of Seychelles. You can find souvenirs to take home here, as well as many indigenous products made from seashells. You can also buy locally made pearl jewelry and paintings, and other forms of artwork here.
2.) Taste the indigenous cuisine
It is a must that you taste an authentic Seychelles meal. There are so many restaurants that offer Seychelles cuisine that is heavily influenced by Creole cuisine. You will love their fresh fish dishes, especially the red snapper.
3.) Watch that beer belly
Who can't resist sampling Seychelles' beer brand, such as Seybrew beer? This is a must for any tourist as it is a perfect accompaniment while enjoying the balmy nights on the beach. If you want rum, there is also the Takamara Rum.
4.) Enjoy the nightlife
Since Seychelles is a well-known tourist destination, you will always find bars and discos here. They are usually located where the hotels have the most presence since this is where most of the tourists stay. You can also watch in their theaters and their cinemas, or you can always eat good food in their trendy restaurants.
5.) Visit the beaches of Seychelles
The reason why tourists flock to Seychelles is because of its beautiful beaches. You will also enjoy them because most of them are still undeveloped, and this is perfect for those who want a little privacy. Nothing compares to the beauty of clear skies and blue waters when you relax on a Seychelles beach.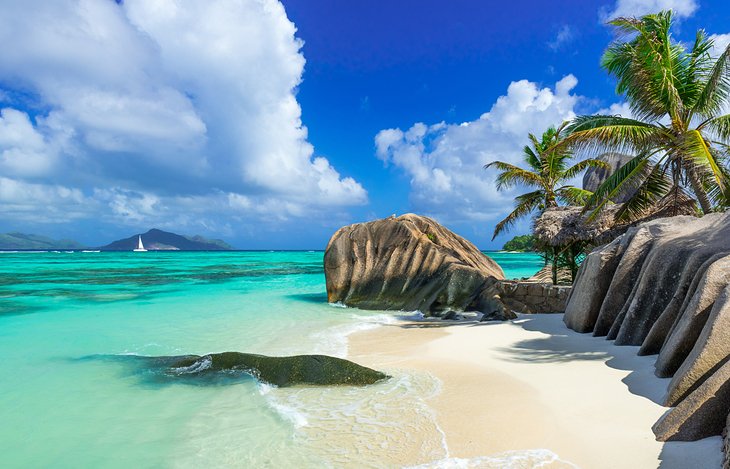 6.) Go to the Vallee De Mai
This is a UNESCO World Heritage Site. It is located on one of the islands of Seychelles, Praslin. It prides itself on housing the largest seed called coco de mer.
7.) Go snorkeling and scuba diving
Seychelles offers the best snorkeling sites in the world. The Aldabra Atoll is a must-see for snorkeling enthusiasts because it is considered the world's largest coral, said to be where the giant land turtle used to live. Now you can see tiger sharks and giant manta rays swimming in the depths.
8.) Go sailing or hunting with a sailboat
Some sailboats and yachts can be rented. They will take you on tours around the islands and take you island hopping. What better way to explore Seychelles than to see some of the islands, inhabited or otherwise?
9.) Enjoy land sports
Water sports are not the only thing Seychelles has to offer; there are other land sports. Here you can enjoy some good rounds of tennis or golf, as well as badminton and squash. This is a fun way to spend a day with your family or loved one.
10.) Exploring nature
Seychelles also has excellent locations where you can go hiking or biking, and there are many bike rentals for tourists to rent. If you don't want to bike, you can go horseback riding and still see the beautiful scenery that Seychelles has to offer. There are also birding excursions in Seychelles, especially on Cousin Island, where you can find various birds. You can also visit Bird Island, where the five beaches with the softest white sand welcome you.
11.) Chilling out on the beach at Beau Vallon
This beach is picture-perfect, with white sand and coconut trees all around. Here you can see a native takamaka tree. The beach is ideal for water sports with its clear blue waters and colored coral reefs. This is the gentlest flowing beach in Mahe. If you glance across the bay, you will see a Silhouette Island. The first island of Seychelles to be visited as early as 1609 was the North Island, which can also be viewed here. You will find beaches that are not crowded and surrounded by the bounty of nature. The skies are clear. Take a walk of about 2 hours along the coastline from Beau Vallon to Anse Major, and soon you will come to a small beautiful beach.