"The destination doesn't matter when you are with your furry friend." I completely agree with you, however, when you are traveling long distances, it is important to remember that your dog might not be used
"The destination doesn't matter when you are with your furry friend."
I completely agree with you, however, when you are traveling long distances, it is important to remember that your dog might not be used to such long trips. So, if you are still set on traveling with your dog, here are some tips which make your dog's journey more comfortable and enjoyable.
Prepare Your Dog for Vaccinations
Check that your dog has had all of its immunizations. It is important to ensure that your dog is happy and healthy when traveling. Take your dog to the doctor to ensure that their vaccines are up to date so that they are safe and protected against any new germs they may come into contact with. Rabies, canine hepatitis, and canine distemper vaccines are also required. Determine whether your dog is susceptible to any infections in the places where you will be visiting. If there are, see your veterinarian about obtaining your dog the necessary immunizations.
Look for information on ticks or sandflies in the area to see whether your dog needs to be extra cautious.
Consult Your Veterinarian About Motion Sickness Medicine for Your Dog
If you've ever taken your dog on a brief vehicle journey, you may have observed that the motion of the automobile makes them nauseous. Ask your veterinarian if they can prescribe medication to aid your dog's stomach while they're on the move. This is usually a pill that you give your dog every few hours while driving or flying. Never give your dog medicine unless a doctor has recommended it.
Put Your Dog's Necessities in an Easy-To-Access Bag
Every dog is unique and necessitates a unique set of necessities. Make sure your dog has food, water, two bowls, a leash and harness, poop bags, toys, and treats in a bag. Keep this bag in a convenient location so you may pull goods out as needed during your travels.
Make sure you include enough medicine for your dog to last the entire vacation.
If your dog suffers from a medical problem, obtain a copy of their medical history from your veterinarian in case of an emergency. Ensure that the history covers any diagnoses, testing performed on your dog, and medication dosing.
Bring up-to-date vaccination records for your pets in case your pet bites someone. The records will demonstrate that there is no concern for the individual's health.
A Long Walk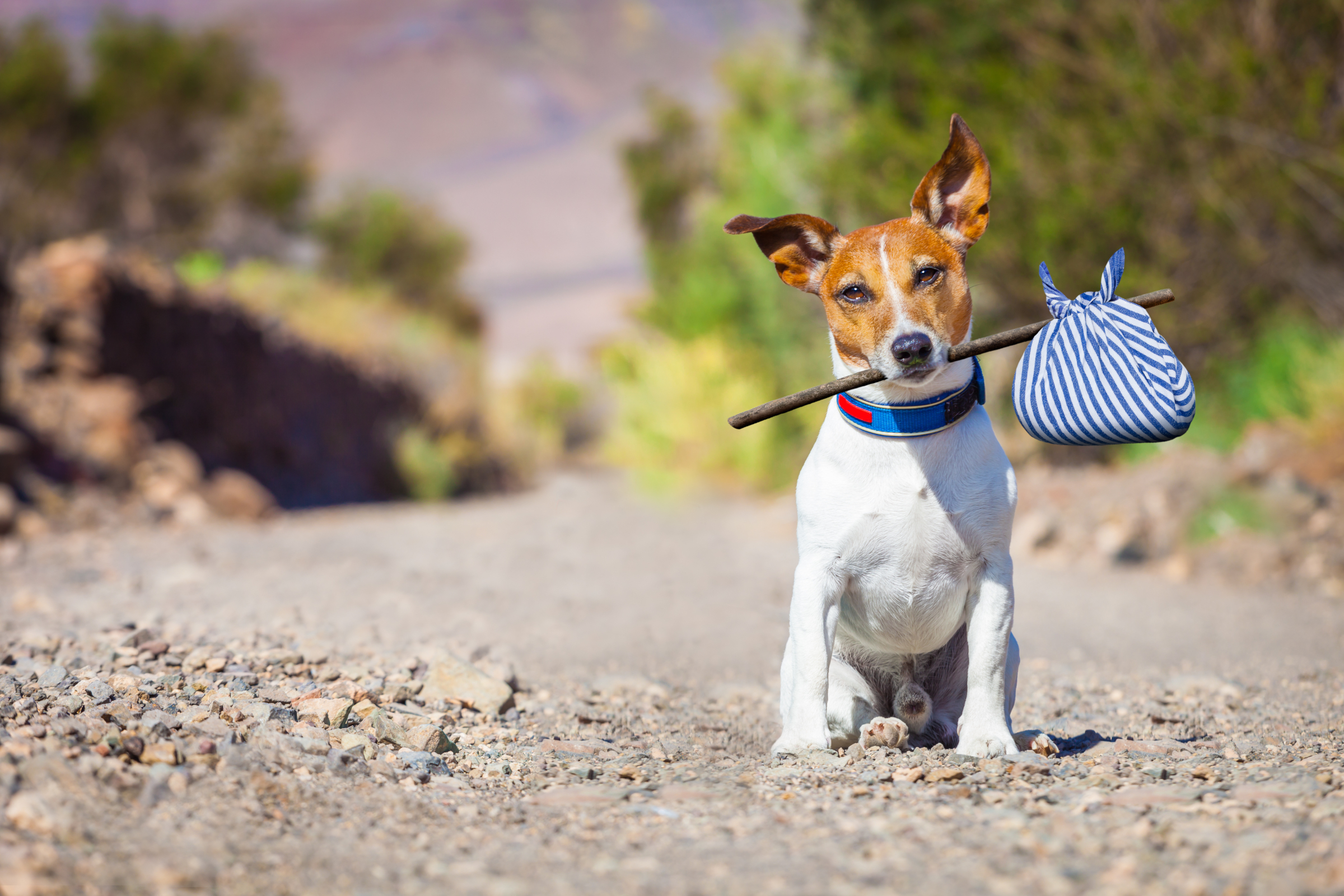 Before you embark on your excursion, take your dog for a long walk. Dogs, especially puppies, have a lot of pent-up energy. Take your dog for a stroll or a hike to provide them some exercise and tire them out. This can also assist with any anxious energy they may have.
It may also be beneficial to stretch your legs before embarking on your excursion.
Consider having your dog microchipped before you leave so that they can be identified if they run away or become lost.
Use a Harness or a Dog Seat Belt to Secure Your Dog
Dogs should not be permitted to roam around in a moving automobile since they might cause distractions or be injured in the case of an accident. Install a dog harness, seat belt, or crate restraint in your car to keep your dog sat and in one place during your journey. Small dogs can sit in a kennel tied to a seatbelt, while larger dogs can be belted in through harnesses.
If you do use a vehicle crate, make sure it is spacious enough for your dog to spin around in. Ensure that any straps or harnesses you employ have been crash-tested to ensure their safety in the event of a collision.
To Keep Your Dog Comfortable, Put Down a Blanket or a Dog Bed
If you are not using a crate and your dog will be sitting directly on the seats of your car, place a blanket or a dog bed that they enjoy on the floor to make them feel more at peace. Make it smell like something they want to lay on at home.
Using a blanket or a dog bed can also assist in preserving your car's seats.
If your dog has motion sickness, keep plastic bags and cleaning tools on hand.